The individual income taxpayers or the personal income taxpayers has to report the income tax return with the IRS; every year the deadline falls on April 15 and this time around the IRS has allowed an extension by a month and the new due date is May 17. If the taxpayers are still in need of extra time to work on the tax returns then they can request the time by reporting Tax Extension Form 4868 and push the Due Dates to October 15.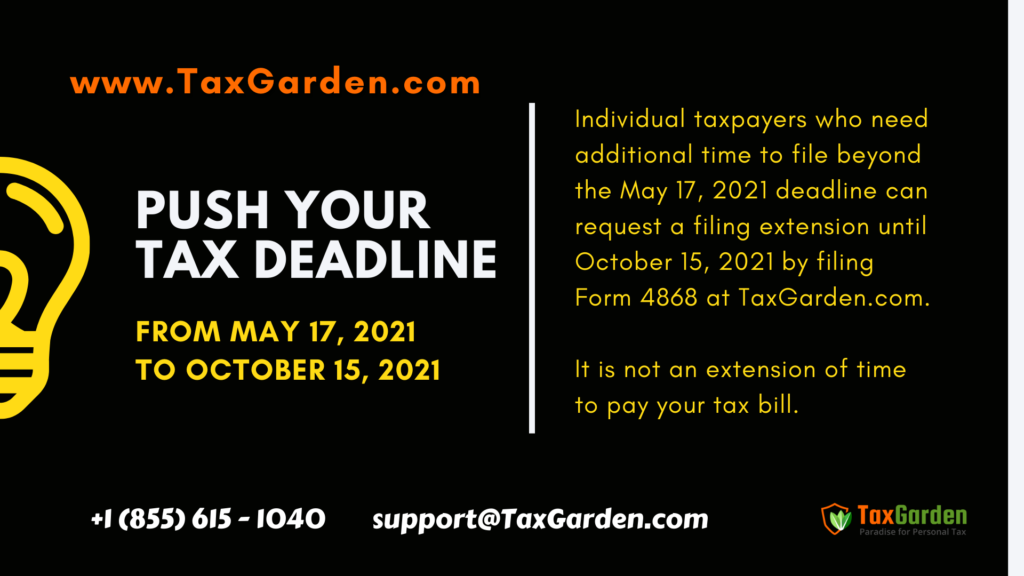 Form 4868 is known as the Application for Automatic Extension of Time to File U.S. Individual Income Tax Return. When you complete the form, the IRS will automatically grant you a six-month tax extension (some businesses use this form to get extra time and only get a five-month extension).
Form 4868 doesn't give you more time to pay any taxes you owe – that balance was still due by April, and penalties and interest will begin adding to any outstanding balance after that date.
IRS Form 4868 is a request for an automatic extension of time to file your tax return.
The form is technically for individual or personal returns, but it's appropriate for pass-through small business entities such as sole proprietorships and partnerships.
Submitting Form 4868 gives you an additional six months to file your tax return, but any taxes you owe are still due by May 17. 
Usually the Tax Deadline is April 15 every year and the federal agencies considered pushing the due dates by a month to allow all the taxpayers to have the required documents ready for reporting the taxes.
Need additional time to report the Individual Income Tax returns then report IRS Tax Extension Form 4868 and Push the deadlines beyond May 17, 2021.
Talk to us at 855 – 615 – 1040 or 347 – 515 – 2290; write to us at support@Taxgarden.com.
Business tax on the personal return.
Business owners who pay business taxes as part of their personal tax returns are called pass-through businesses. These businesses use Form 4868 to apply for an extension.
This typically includes:
Sole proprietors and single-member limited liability companies (SMLLC) filing their business tax on Schedule C as part of their tax return.
Partners in partnerships and S corporation owners filing a Schedule K-1 for their share of business tax liability as part of their tax return.
Owners of corporations receive dividend income as shareholders. Dividends are taxed on their personal tax returns. Corporation or S corporation owners may work as employees, and this income is taxed on their personal returns.
Important filing season dates
Monday, May 17, 2021. Due date for filing 2020 tax returns for individuals and for businesses reporting the sole proprietorship. single member LLC and or requesting extension of time to file income taxes with the IRS.
Monday, May 17, 2021. Due date for paying 2020 tax owed to avoid owing interest and penalties.
Friday, October 15. Due date to file for those requesting an extension on their 2020 tax returns.