Affordable care act is one of the latest headaches for many taxpayers who already find tax season tedious and demanding. People had been running from corner to corner in hope to get enrolled in some eligible health coverage. Not because they just want coverage but to escape the shared responsibility payments which will only add to their already hefty tax liability.
On the other hand, there were people who found it hard to even file their tax on time and have moved on to file form 4868 to extend their filing for another 6 months. But what good does it do to the Affordable Care Act payment. Can filing a tax extension buy some time for the penalty it imposes for not having a valid health insurance during that tax year? There are lot of other doubts and speculations around this new topic but let's stick to what good can tax filing extension do to the health care penalty in this post.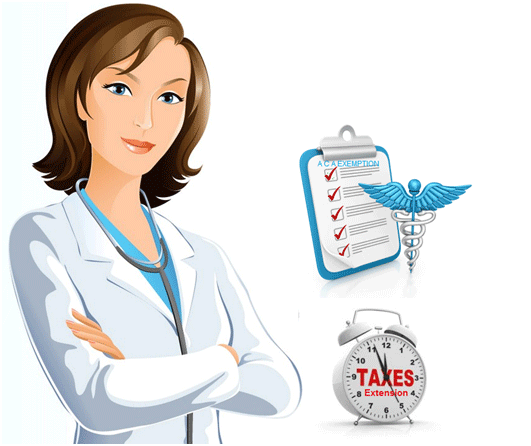 Just when the extension gives some more time to prepare your tax return, you also get to see if you were eligible for a non-coverage waiver on your taxes.
If a taxpayer pays the non-coverage penalty while asking for an extension to file their income taxes, they may be qualified for a refund if they later on notice that they are eligible for an exemption under the Federal Mandate.
Now what if a taxpayer is actually qualified for an exemption from the tax penalty for not having health insurance but ended up paying the non-coverage penalty while they filed for an extension? The IRS takes care of it and may issue a tax refund or deduct the amount from the total amount of taxes the taxpayer owes to the IRS.
That's all we have for now, join us back soon for more ACA Exemption Tips. Please feel free to get in touch with us for any 1040EZ personal tax solutions in +1 855 615 1040 or chat with our live tax agents today.